315-252-2559
Monday-Friday
8:30am - 5:00pm ET

VOLUME DISCOUNT
(Most Stocked Items)

$5k - $10k / 5%
$10k - $25k / 7.5%
$25k+ / 10%

Call for More Details.
Carbon Fiber Furniture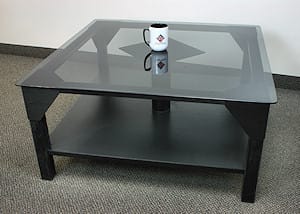 Carbon fiber is increasingly used in the construction of furniture, both for weight savings, as well as the high-tech look such a piece brings to the office, lobby, or aircraft where it resides. Dragonplate supplies both off-the-shelf and custom carbon fiber sheets, angles, tubes structures, connectors, and other building materials to furniture manufacturers who are interested in incorporating composites into their pieces. Multiple different finishes, weave patterns, thicknesses, and core materials are available, and give the designer a wide variety to choose from. For aircraft interiors, carbon fiber provides both high stiffness along with substantial weight savings for frames, cabinetry, and even counters. Most items available on the Dragonplate website can be special ordered in a flame retardant variant.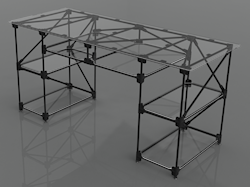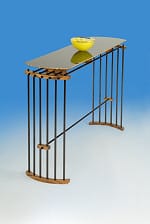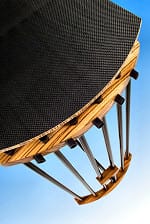 A walnut and carbon fiber dining table made by Jeff Spugnardi. (Jason Callaway/Courtesy of Jeff Spugnardi)

The table's eye-catching element — a "check," or crack, in the wood that he filled with a carbon fiber sheet — was inspired by a lifelong passion for boating, from his time as a Marine to sailing in the 2000 Olympic trials.

See more of Jeff's Furniture at http://www.custommade.com/by/spugnardi/
Home | Company | Technical | Applications | Products | Contact | Shipping | Terms of Sale
© DragonPlate™ 2018 - A Division of Allred & Associates Inc.