Carbon Fiber for Trade Shows and Interior Design
Carbon fiber is increasingly used in the construction of trade show booths and within the more general scope of interior design, both for weight savings, as well as the high-tech associated with carbon composites. Dragonplate supplies both off-the-shelf and custom carbon fiber sheets, angles, tubes, connectors, stiffeners, and other building materials to firms that are interested in incorporating composites into their designs. Multiple different finishes, weave patterns, thicknesses, and core materials are available, and give the designer a wide variety of options. For trade show booths, carbon fiber provides an excellent alternative for trusses, frames, cabinetry, counters, and large custom pieces, particularly when they need to be held via cables or cantilevered. It is often possible to reduce the weight of a structure by 50-75%, reducing both shipping costs and setup time, and improving safety. In addition, designs that may not be possible using heavier conventional materials may now be feasible with carbon fiber composites due to the high stiffness and low weight.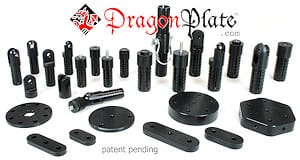 Dragonplate connector systems provide a wide variety of options for integrating carbon fiber structural components into the overall booth or interior design layout, while veneer material provides the easily recognizable carbon fiber facade when the design still requires standard materials for the support structure or cost considerations.
Our Dragonplate design and engineering group is happy to discuss your new projects and our ISO 9001 certified production team is ready to manufacture your vision.