| | | |
| --- | --- | --- |
| | Honeycomb Weave Carbon Fiber Veneer | |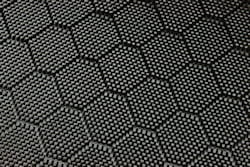 Comprised of real carbon fiber weaved in a honeycomb pattern, this veneer presents a unique appearance that is well suited for covering large surfaces or for decorative trim. Available in gloss and matte finishes, providing any project with a distinctive carbon fiber facade. Sheets are available as large as 4' x 8', yet the material forms into a cylinder as small as 1 inch. Can also be used for outdoor applications as we utilize a UV resistant resin that extends the life of the part and finish under sun exposure. Decals may simulate the look of carbon fiber from a distance, but up close there is little comparison to the DragonPlate finish.
Please allow 5-7 days before this product ships.





Product 1 to 4 of 4
Page: 1


Product 1 to 4 of 4
Page: 1