315-252-2559
Monday-Friday
8:30am - 5:00pm ET

VOLUME DISCOUNT
(Most Stocked Items)

$5k - $10k / 5%
$10k - $25k / 7.5%
$25k+ / 10%

Call for More Details.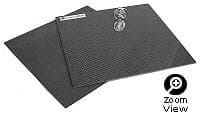 Quasi-isotropic Solid Carbon Fiber Sheet ~ 3/32" x 6" x 6"

Product description:
Our quasi-isotropic solid carbon fiber sheets are a tough and rigid carbon reinforced epoxy matrix composed of multiple layers of woven carbon fiber fabric without any core material. Quasi-isotropic sheets utilize balanced and symmetrical lay-up schedules of 90 degree and 45 degree fabric. These sheets are available with your choice of either a plain or twill weave face sheet. Plain weave finish options include high gloss, scratch resistant matte, or textured finish, while twill weave is available in a high gloss or matte finish. Finish options are available on one side only, with a textured finish on the other side for an ideal bonding surface.

Home | Company | Technical | Applications | Products | Contact | Shipping | Terms of Sale
© DragonPlate™ 2017 - A Division of Allred & Associates Inc.