315-252-2559
9:00am - 5:00pm, Mon-Fri

VOLUME DISCOUNT
on Standard Veneer & Solid CF Sheets.

$2500 - $5000, 5%
$5000 - $10,000, 7.5%
$10,000+, 10%

Call for More Details.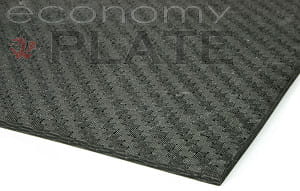 Product description:
For less demanding non-cosmetic applications where you can live without the beautiful DragonPlate finish and the optimized material properties of a quasi-isotropic lay-up, we have introduced a product called EconomyPlate. Our EconomyPlate offering is comprised of orthotropic (non quasi-isotropic) laminates utilizing a twill weave at 0&deg/90&deg orientation, while maintaining a symmetrical and balanced laminate. Instead of the standard gloss DragonPlate finish, a textured finish is supplied on both sides to keep the price low, while offering an excellent bonding surface. As with DragonPlate solid carbon fiber sheets, all laminates are composed entirely of a tough and rigid carbon reinforced epoxy matrix. Custom sizes and CNC machining are also available with EconomyPlate solid carbon fiber sheets.

Home | Company | Technical | Applications | Products | Contact | Shipping | Terms of Sale
© DragonPlate™ 2013 - A Division of Allred & Associates Inc.