315-252-2559
9:00am - 5:00pm, Mon-Fri

VOLUME DISCOUNT
on Standard Veneer & Solid CF Sheets.

$2500 - $5000, 5%
$5000 - $10,000, 7.5%
$10,000+, 10%

Call for More Details.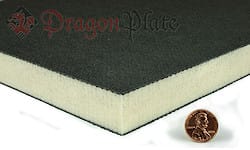 Product description:
DragonPlate's carbon fiber Divinycell foam core utilizes Divinycell H100 high performance core. This is a medium density structural foam with very high strength to weight ratio. With very large strength properties, this carbon fiber foam core laminate is an excellent choice for heavier duty applications where lighter density foams struggle. Divinycell H100 is also an excellent damage tolerant foam and is ideal for impact applications. The lay-up design is quasi-isotropic, consisting of three layers of carbon fiber on each side of a Divinycell foam core center. Available in gloss, matte or texture on one side and texture on other side for bonding to other surfaces. For foam specifications, please refer to the official Divinycell Foam Data Sheet.

Home | Company | Technical | Applications | Products | Contact | Shipping | Terms of Sale
© DragonPlate™ 2013 - A Division of Allred & Associates Inc.