315-252-2559
Monday-Friday
8:30am - 5:00pm ET

VOLUME DISCOUNT
(Most Stocked Items)

$5k - $10k / 5%
$10k - $25k / 7.5%
$25k+ / 10%

Call for More Details.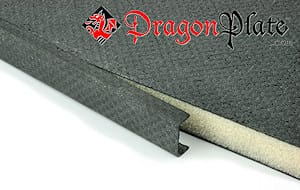 Carbon Fiber Core Edge Trim 1" x 48"

Product description:
These carbon fiber trim strips are designed to cover the edge of our carbon fiber sandwich laminates. The exposed core material in the edge of our sandwich panels can be a potential weak point in the laminate. This trim reinforcement strip protects the exposed edge from localized impacts while providing a finished look. These trim pieces are mini c-channels that are bonded to the edge of our honeycomb, balsa, or foam core materials. These are manufactured with a texture by texture finish to aid in adhesion while bonding to the core. We recommend ScotchWeld 2216 adhesive when bonding these core strips to our sandwich panels.

These trim strips have been cut to exceed described length to allow for mitering of ends.

For best fit, use with cores that have 0.03" skins.

Home | Company | Technical | Applications | Products | Contact | Shipping | Terms of Sale
© DragonPlate™ 2018 - A Division of Allred & Associates Inc.