315-252-2559
Monday-Thursday
8:30am - 5:30pm ET
Friday
8:30am - 5:00pm ET

VOLUME DISCOUNT
(Most Stocked Items)

$5k - $10k / 5%
$10k - $25k / 7.5%
$25k+ / 10%

Call for More Details.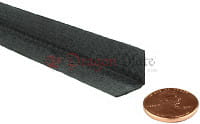 Product description:
Our Angle has a quasi-isotropic, symmetrical lay-up schedule. It is produced with a textured surface finish on both the inside and outside. The textured surface is created from a peel ply fabric, this surface is excellent for bonding. This makes our CF Angle ideal by itself or in conjunction with our DragonPlate Laminates to build an extremely stiff and strong structure. Angle can be cut and trimmed easily using a hacksaw/band saw or we can custom CNC angle to your CAD drawing.


Home | Company | Technical | Applications | Products | Contact | Shipping | Terms of Sale
© DragonPlate™ 2014 - A Division of Allred & Associates Inc.