315-252-2559
Monday-Thursday
8:30am - 5:30pm ET
Friday
8:30am - 5:00pm ET

VOLUME DISCOUNT
(Most Stocked Items)

$5k - $10k / 5%
$10k - $25k / 7.5%
$25k+ / 10%

Call for More Details.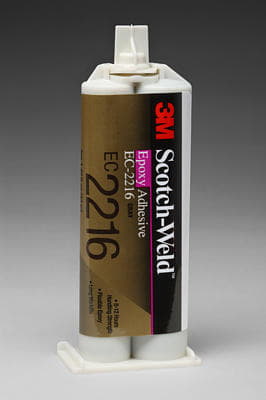 Product description:
3M Scotch-Weld Epoxy Adhesive EC-2216 is a gray colored, flexible, two-part epoxy. 2:3 mix ratio, 90 minute work life and handling strength in 10 hours. Dispensed with 3M Scotch-Weld EPX II Plus Applicator gun.

3M Scotch-Weld Epoxy Adhesive EC-2216 cures at room temperature and provides high strength bonds with exceptional performance in shear and peel. It can be used to bond rubber, metal, wood, most plastics and masory products. good environmental resistance.
43 mL
Data Sheet

Material Safety Data Sheet
Tips sold separately.

Home | Company | Technical | Applications | Products | Contact | Shipping | Terms of Sale
© DragonPlate™ 2015 - A Division of Allred & Associates Inc.