315-252-2559
Monday-Thursday
8:30am - 5:30pm ET
Friday
8:30am - 5:00pm ET

VOLUME DISCOUNT
(Most Stocked Items)

$5k - $10k / 5%
$10k - $25k / 7.5%
$25k+ / 10%

Call for More Details.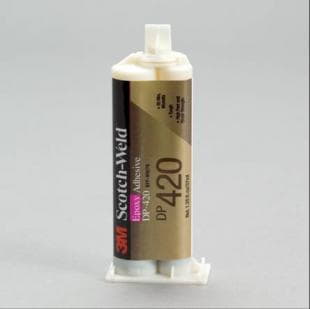 Product description:
3M Scotch-Weld Epoxy Adhesive DP420 is a high performance, two-part off-white epoxy adhesive offering outstanding shear and peel adhesion, and very high levels of durability. This adhesive has controlled flow, a 2:1 mix ratio, a 20-30 minute worklife, and develops handling strength in 1-2 hours. 3M Scotch-Weld EPX Plus II applicator.

3M Scotch-Weld Epoxy Adhesive DP420 has medium viscosity that allows for easy dispensing. Bonds to a variety of materials such as, metals, ceramics, wood and some plastics.
1.25oz/37ml
Data Sheet

Material Safety Data Sheet

UPC# 00 021200 82236 0 3M ID 62328014352
Tips sold separately.

Home | Company | Technical | Applications | Products | Contact | Shipping | Terms of Sale
© DragonPlate™ 2015 - A Division of Allred & Associates Inc.