315-252-2559
9:00am - 5:00pm, Mon-Fri

VOLUME DISCOUNT
on all carbon fiber sheets.

$5000 - $9999 / 5%
$10,000 - $24,999 / 7.5%
$25,000+ / 10%

Call for More Details.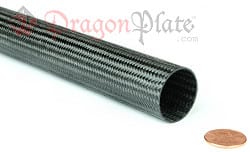 Product description:
This round tubing is comprised of Carbon Fiber Braid and Unidirectional Fabrics. This product is ideal for building light weight frames and structures. Our Carbon Fiber round tubing has been engineered to be much stronger under torsional and side loading than pultruded tubing. Our tubing is also significantly lighter than pultruded tubing. Our carbon fiber round tube has been designed so that the unidirectional layers are captured in a sandwich structure, eliminating longitudinal cracking and splitting. The finish on this product is different from our other product lines. These round tubes show the texture of the carbon fiber braid with a wet shiny appearance. Dimensions are taken from the inside.

Don't see exactly what you're looking for? Contact us about custom thicknesses, sizes, and finished lengths.

NOTE: Oversized Package - Additional shipping charges may apply.

Home | Company | Technical | Applications | Products | Contact | Shipping | Terms of Sale
© DragonPlate™ 2013 - A Division of Allred & Associates Inc.