315-252-2559
Monday-Thursday
8:30am - 5:30pm ET
Friday
8:30am - 5:00pm ET

VOLUME DISCOUNT
(Most Stocked Items)

$5k - $10k / 5%
$10k - $25k / 7.5%
$25k+ / 10%

Call for More Details.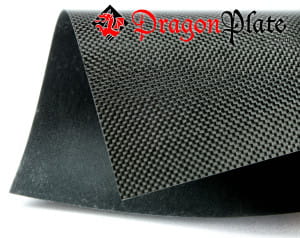 Product description:
DragonPlate real carbon fiber veneer, our thinnest product, is well suited for covering large surfaces or for decorative trim. The gloss and matte finishes provide any project with a distinctive carbon fiber facade. Sheets are available as large as 4' x 8', yet the material forms into a cylinder as small as 1 inch. DragonPlate Carbon Fiber Veneer cuts easily with shears or heavy scissors, and the edges can be sanded smooth. In addition, for outdoor applications, an optional UV resistant resin can be utilized that extends the life of the part and finish due to sun exposure. Decals may simulate the look of carbon fiber from a distance, but up close there is little comparison to the DragonPlate finish.

NOTE: Please allow 3-5 business days before veneers with UV resistant option ship.

Home | Company | Technical | Applications | Products | Contact | Shipping | Terms of Sale
© DragonPlate™ 2015 - A Division of Allred & Associates Inc.