315-252-2559
Monday-Friday
8:30am - 5:00pm ET

VOLUME DISCOUNT
(Most Stocked Items)

$5k - $10k / 5%
$10k - $25k / 7.5%
$25k+ / 10%

Call for More Details.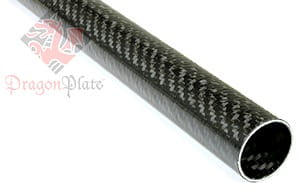 Kevlar Core Carbon Fiber Round Tube ~ 1" ID x 96"

Product description:
The construction our of Kevlar core carbon fiber tubes is identical to our standard twill roll-wrapped tubes except that the uni-directional plies are replaced with prepreg woven Kevlar. By creating a sandwich laminate where carbon fiber comprises the material layers on the inside and outside of these tubes, Kevlar core carbon fiber tubes maintain most of the stiffness of our standard roll-wrapped twill prepreg tubes, but with greatly increased impact and puncture toughness due to the all Kevlar core. Wall thickness is 1/16" with a gloss finish.

Contact us for a quote on additional wall thicknesses.

Please allow 10-15 days before this product ships.

Also see other Kevlar Composites we manufacture.

Home | Company | Technical | Applications | Products | Contact | Shipping | Terms of Sale
© DragonPlate™ 2018 - A Division of Allred & Associates Inc.