315-252-2559
Monday-Friday
8:30am - 5:00pm ET

VOLUME DISCOUNT
(Most Stocked Items)

$5k - $10k / 5%
$10k - $25k / 7.5%
$25k+ / 10%

Call for More Details.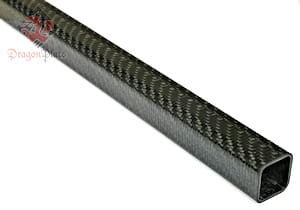 Carbon Fiber Roll Wrapped Twill Square Tube ~ 0.75" ID x 0.75" ID x 24"

Product description:
Dragonplate roll wrapped twill carbon fiber square tubes are fabricated from a combination of unidirectional and woven twill prepreg material and cello wrapped for a gloss finish. The unidirectional layers are oriented to provide high bending stiffness and axial strength. The inner and outer layers provide a bias support in addition to an attractive appearance. This product is ideal for building lightweight frames and structures, tubular vessels, poles, column supports, and any other applications where low weight and high stiffness are essential, yet appearance is also important.

Please allow 10-15 days before tubes ship.

Home | Company | Technical | Applications | Products | Contact | Shipping | Terms of Sale
© DragonPlate™ 2018 - A Division of Allred & Associates Inc.