315-252-2559
Monday-Friday
8:30am - 5:00pm ET

VOLUME DISCOUNT
(Most Stocked Items)

$5k - $10k / 5%
$10k - $25k / 7.5%
$25k+ / 10%

Call for More Details.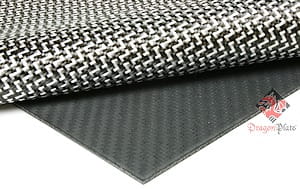 Carbon Fiber Dyneema Core Sheet - 1/8" x 24" x 48"

Product description:
Dyneema®, the world's strongest fiber™, is respected as the premium brand for Ultra-High Molecular Weight Polyethylene (UHMwPE). DragonPlate offers carbon fiber sheets with a Dyneema core. These sheets maintain the majority of the stiffness of a solid all-carbon fiber laminate due to a combination of carbon fiber skins and a 70/30 carbon/Dyneema ratio core. The 30% Dyneema woven into the core, however, yield a plate with exceptional impact toughness. If your project requires a balance between strength and rigidity, this sheet may be the ideal solution.

Overall thickness is approximately 1/8". Finish is textured on both sides.

Please allow 10-15 days before this product ships.

Home | Company | Technical | Applications | Products | Contact | Shipping | Terms of Sale
© DragonPlate™ 2018 - A Division of Allred & Associates Inc.