315-252-2559
Monday-Friday
8:30am - 5:00pm ET

VOLUME DISCOUNT
(Most Stocked Items)

$5k - $10k / 5%
$10k - $25k / 7.5%
$25k+ / 10%

Call for More Details.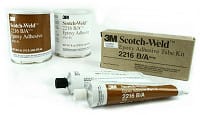 3M Scotch-Weld Epoxy Adhesive 2216 B/A Gray Tube Kit

Product description:
Highly Flexible, Two-Part Adhesive Kit (2/3 Full Container of Base, 1 Full Container of Accelerator, gray in color). Cures at Room Temperature. Provides High Strength Bonds in Shear and Peel. Bonds Rubber, Metal, Wood, Plastic and Masonry. Highly recommended for DragonPlate bonding. For complete information about this product, view the data sheet.
Material Safety Data Sheet

Home | Company | Technical | Applications | Products | Contact | Shipping | Terms of Sale
© DragonPlate™ 2018 - A Division of Allred & Associates Inc.