315-252-2559
9:00am - 5:00pm, Mon-Fri

VOLUME DISCOUNT
on Standard Veneer & Solid CF Sheets.

$2500 - $5000, 5%
$5000 - $10,000, 7.5%
$10,000+, 10%

Call for More Details.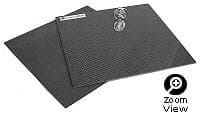 Product description:
DragonPlate Flame Retardant Carbon Fiber Laminate products resist the spread of fire which makes them ideal for aviation and marine use or any other application that require flame retardant properties. Flame Retardant DragonPlate carbon fiber laminates have successfully passed FAR 25.853(a), Appendix F testing. Our flame retardant laminates have the same deep luster and glossy mirror finish as our standard DragonPlate product line. We also offer flame retardant in our scratch resistant matte finish.

We can custom CNC flame retardant laminate to your CAD drawing.

PLEASE CALL FOR LEAD TIME.

Home | Company | Technical | Applications | Products | Contact | Shipping | Terms of Sale
© DragonPlate™ 2013 - A Division of Allred & Associates Inc.