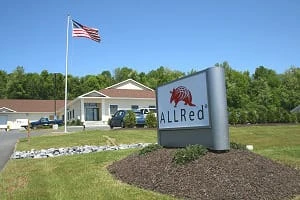 Mission
Our products are engineered and technical in nature, requiring in-depth knowledge of technology in their design and fabrication. We utilize creative approaches to the solutions of problems and the creation of our products and processes to fabricate them. We apply high levels of craftsmanship to create our products, which are always beautiful and of the highest quality.

About Us
DragonPlate is manufactured by Allred and Associates Inc., an engineering product development and manufacturing firm in business since 1993 and is located in Elbridge, New York.

Our Products
DragonPlate products are designed for use in constructing high performance structures and are simple to work with as they can be easily cut, drilled and assembled for a wide variety of applications. DragonPlate offers a wide selection of standard sizes in laminate, veneer, angle, tube, rod and more.

DragonPlate also offers engineer design and custom fabrication for your unique carbon fiber part. With experience in aviation, biomedical and DoD projects, we have a broad base of experience to draw on. Our designers are experienced in AutoCAD and SolidWorks. Our complete manufacturing facility can handle multiple processes from one to thousands of parts.

ISO9001 Certified
Why deal with an ISO9001 certified company? ISO9001 is a set of standards for quality management systems that is accepted around the world. When you purchase a product or service from an organization that is registered to the ISO9001 standard, you have important assurances that your quality expectations will be met.

It is the policy of Allred & Associates to exceed our customers' requirements and expectations in product, performance, and service. Allred & Associates, Inc. is committed to the continual improvement of our products, processes, and monitoring of customer satisfaction for the assurance of quality by our commitment to the ISO9001 standard.