NEW! Streamlined Symmetrical Airfoil Carbon Fiber Tubing
Monday, July 9, 2018

July 9, 2018
Thanks for your interest in DragonPlate carbon fiber composites.  We appreciate your continued business and would love to hear your comments on these new products and any future products you would like to see.  Like us on Facebook and join in the discussion.
---
NEW! Streamlined Symmetrical Airfoil Carbon Fiber Tubing
Symmetrical airfoils have the same curvature on their top and bottom surfaces, providing an aerodynamic shape with lower drag than an oval tube. Tear drop in shape, this symmetrical airfoil contributes no lift at zero angle of attack, but will generate lift at a positive angle of attack.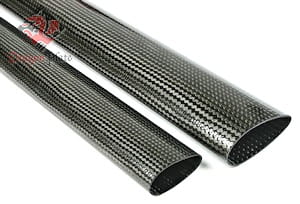 Comprised of carbon fiber braid, DragonPlate Symmetrical Streamlined Airfoil Tube is ideal as a strut or faired structural component for any UAV, model airplane, or any other application that may benefit from a streamlined strut. This tube is comprised of all braid with a gloss finish.
Buy Streamlined Symmetrical Airfoil Carbon Fiber Tubing at DragonPlate.com
---
As always, if you have any questions about our products, please call or email us. An engineer would be happy to discuss how to apply carbon fiber composites to your specific applications.

[email protected]
315-252-2559
The DragonPlate Sales Team




DragonPlate Carbon Fiber Composites - 321 Route 5 West - Elbridge - New York 13060 - 315-252-2559