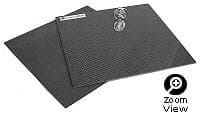 Dimensions

Our fabrication process produces a carbon fiber birch plywood sandwich structure that is exceptionally flat, stable and lighter than a solid Carbon Fiber laminate sheet. DragonPlate™ Carbon Fiber sandwich sheets are currently available in thicknesses from .025 to .250 inches. Each laminated sheet has a symmetrical and balanced carbon fiber lay up schedule with varying core materials. Our core materials vary (depending on thickness) from wood fiber to high quality birch plywood. Standard sizes range from 6 x 6 inches up to 24 x 48 inches. DragonPlate offers our carbon fiber sandwich sheets in full sizes (6", 12", 18", 24" etc.) unlike some other manufacturers whose cut sizes result in up to 20% less material. Custom sized carbon fiber sheets are available upon quotation.

  Appearance

DragonPlate carbon fiber laminate sandwich sheets are produced with one side very shiny and clear for appearance, and the other side with a dull finish for bonding. The shiny side of the carbon sheet is pristine with no bubbles or voids. All DragonPlate gloss carbon fiber sheets incorporate a .005" thick epoxy gel-coat surface, for a superior deep, rich finish. This added surface preserves the natural shape of the carbon fibers. The carbon fiber cloth literally shimmers under the crystal clear epoxy. Without this extra gel-coat, the carbon fibers will appear flattened or smashed, as seen in cheaper, lesser quality carbon fiber sheets.


The bonding side of the carbon sheet is flat and non-reflective and the surface has the feel of a very fine fabric-like texture superimposed on the weave of the carbon fiber fabric. Both surfaces are completely sealed.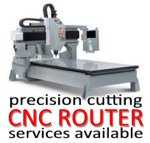 Workability

DragonPlate Carbon Fiber Laminate sheets are easy to work with. They can be cut with a band saw, coping saw, scroll saw, end mill, or dremmel tool. They can be drilled with standard twist drills and can be assembled with fasteners or bonded with epoxy.

What is a Sandwich Structure?

A composite sandwich combines the superior strength and stiffness properties of carbon-fiber with a lower density core material. In the case of Dragonplate sandwich sheets, the carbon-fiber creates a thin laminate skin over an aircraft-grade birch plywood core. By strategically combining these materials, one is able to create a final product with a much higher stiffness to weight ratio than with either alone. For applications where weight is critical, Dragonplate carbon-fiber sandwich sheets may be the right fit.



A composite sandwich structure is mechanically equivalent to a homogeneous I-Beam construction in bending. This equivalency is shown in Figure 1.


Figure 1: Diagram showing carbon-fiber composite sandwich and equivalent I-Beam
Referring to the picture of the sandwich structure, at the center of the beam (assuming symmetry) lies the neutral axis, which is where the internal axial stress equals zero. In Figure 2, moving from bottom to top in the diagram, the internal stresses switch from compressive to tensile. Bending stiffness is proportional to the cross-sectional moment of inertia, as well as the material modulus of elasticity. Thus for maximum bending stiffness, one should place an extremely stiff material as far from the neutral axis as possible. By placing carbon fiber furthest from the neutral axis, and filling the remaining volume with a lower density material, the result is a composite sandwich material with high stiffness to weight ratio.


Figure 2: Comparison of internal stress distribution for solid laminate and sandwich construction in bending.
FEA analyses comparing Dragonplate sandwich laminate with solid carbon fiber are shown in Figure 3. These calculations show the deflections of a cantilever beam with a load placed at the end. In the figure, 3/16" Dragonplate sandwich sheet is shown next to a solid carbon fiber layup of equal weight. Due to the reduced thickness of the solid carbon beam, it deflects significantly more than the equivalent beam made from Dragonplate. As the thickness increases, this disparity becomes even greater due to the large weight savings from the core. In a similar light, one can replace a solid carbon structure with a lighter one of equivalent strength and stiffness made from Dragonplate sandwich laminate.


Figure 3: Finite element analysis comparison between Dragonplate sandwich laminate and solid carbon fiber


Dragonplate materials were extensively tested at Cornell University through a grant from NYSTAR. Figure 4 shows a piece of Dragonplate undergoing a 3-point bending test. In addition to bending, the Cornell laboratory performed tensile, shear, and fracture testing of Dragonplate.


Figure 4: Cornell Laboratory 3-Point Bending Test
PLEASE NOTE: For matte finish carbon fiber sheets allow 3-5 days before product ships.