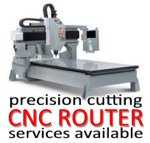 Our carbon fiber balsa core laminate offers a very high strength and stiffness to weight ratio. End grain balsa provides exceptionally high shear, tensile and compressive strengths. Balsa is also a renewable resource, with typical balsa trees maturing to 90 feet in seven years. The lay-up design is quasi-isotropic, symmetrical, and balanced with approximately 0.03 inches of carbon on each side of the end grain balsa core. Available in gloss, matte or texture on one side and texture on other side for bonding to other surfaces.
Two free linear saw cuts with full sheet purchase. Contact us for details.


Carbon Fiber Balsa Core Specifications



Don't see exactly what you're looking for? Contact us about custom thicknesses and sizes.