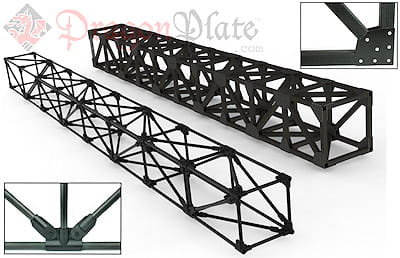 Why is Carbon Fiber ideal for building structures? The benefit of carbon fiber over conventional structural materials is the high strength and high stiffness to weight ratios.
Dragonplate has developed multiple methods for building carbon fiber structures. One method is to use our square or rectangular tubing, and flat stock gusset plates. The other method is to use our carbon fiber tube connector and .5" round pultruded or wound tubing. Both methods allow for customizable structures, with varying heights, widths, depths, cell sizes, and lengths to meet your specific design criteria.

Trusses assembled with our flat stock gusset plates and braided tubing are designed for highly loaded applications. The carbon fiber gusset plate provides a robust joint which transmits the load from one truss member to another. Trusses built from these materials can handle the daily wear and tear when out in the field.

Trusses assembled from our tubing connectors provide a cost effective method of manufacture and an extremely stiff lightweight structure. Trusses built from our tubing connectors should be considered light duty and should not be used in aircraft, man carrying or other high risk structures.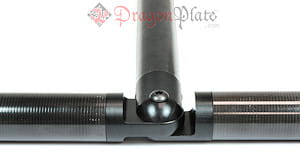 In addition to our fixed methods for building structures which cannot be disassembled, we also have various modular, threaded and quick connect methods.  With these methods you are able to create carbon fiber structures that can be disassembled for transport and then easily reassembled.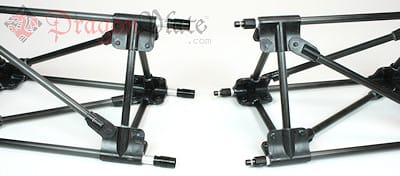 Weighing in at only 13.5 pounds, the truss below shows the strength and stiffeness possible using our carbon fiber tubes and connectors. The truss shown is supporting a 500 pound cantilever load!