315-252-2559
Monday-Friday
8:30am - 5:00pm ET

VOLUME DISCOUNT
(Most Stocked Items)

$5k - $10k / 5%
$10k - $25k / 7.5%
$25k+ / 10%

Call for More Details.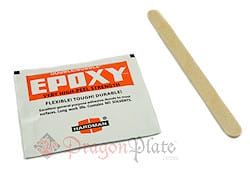 Double/Bubble Orange High Peel Strength Epoxy Adhesive

Product description:
HARDMAN High-Peel-Strength Epoxy is a semi rigid, two component structural epoxy adhesive. It develops an excellent combination of shear strength and peel strength with only a room temperature cure. It has excellent shock resistance, vibration resistance and impact strength.
3.5 gram foil pack

Hardman 04007 Features:
High peel and shear strength
Bonds to polystyrene, ABS nylon, metal, wood, masonry and rubber
Excellent adhesive for bonding fasteners and composites
Working time: 3 hours
Handling strength: 18 hours
Adhesive color: Grey
Viscosity: Soft paste
Package color: Orange
Technical Information

Material Safety Data Sheet

Home | Company | Technical | Applications | Products | Contact | Shipping | Terms of Sale
© DragonPlate™ 2018 - A Division of Allred & Associates Inc.