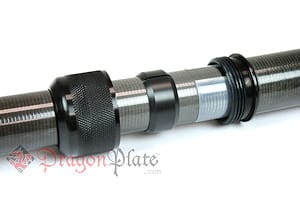 This collet set connects telescoping uni tubes 1.375" ID to 1.5" ID.



The telescoping tube collet kit consists of two black anodized aluminum parts, a compression ring, plastic tape, and bond line control glass spheres. The lower part of the collet is an aluminum ring which is bonded to the end of the larger carbon fiber tube using our recommended Scotch-Weld 2216 2-part epoxy. We provide glass microspheres to control the bond line thickness, maximizing adhesive strength. The upper portion of the collet slides over the smaller telescoping tube and screws to the lower portion, with the compression ring in between providing the friction necessary to keep the tubes from sliding apart (see video). The plastic tape is placed near the end of the smaller tube to provide a stop so that the tube cannot slide completely out of the larger tube, as well as eliminate any side-to-side rocking of the inner tube. For maximum frictional hold, we recommend lightly sanding the carbon fiber tubes to remove the gloss finish and wrap lines.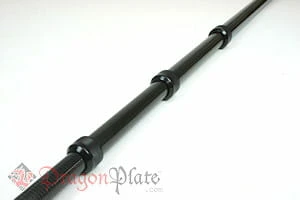 Although all of the components of our telescoping tubes are offered as stand-alone products, tube sanding services, as well as complete telescoping tube assemblies, are available on request.