Industrial Automation and Robotics

Industrial automation and robotics is a field starting to realize the benefits of carbon fiber designs. For many applications, the ability to reduce weight and increase structural stiffness reflects directly in faster response time and reduced motor and actuator loads. This in turn results in improved productivity and longer maintenance cycles. In the business of automation, where machines often run as fast as possible 24/7, reduced inertial loads due to the replacement of heavy metal components with optimized carbon fiber structures can in turn reduce part fabrication time, dramatically increasing profitability. In such applications, the return on investment due to increased material costs associated with carbon fiber is often very short.

DragonPlate large diameter tubes, gussets, and carbon fiber sheets can easily be assembled into frameworks for a wide variety of robotic applications. For uses where loads and deflections are of major concern, DragonPlate can also customize the carbon fiber layup or dimensions to meet the customer specifications.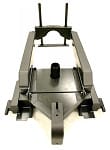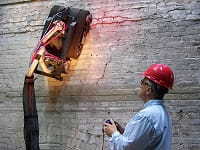 One recent example of DragonPlate carbon fiber materials is from the world of commercial robots. International Climbing Machines built a revolutionary wall-climbing robot, the chassis of which was almost entirely made from DragonPlate carbon fiber. This robot is used in the nuclear industry, airplane inspection, and many other applications where the environment is either extremely harsh to humans, or the ability to climb sideways and upside down would result in drastically reduced labor time (as in the case of inspecting an airplane fuselage or wing). By replacing the original metal structure with one made from DragonPlate, ICM was able to greatly increase the robot's performance and payload carrying ability.

UAVs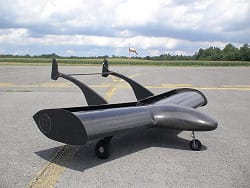 The Propulsive Wing UAV was fabricated exclusively from custom and stock Dragonplate carbon fiber materials. The project began at Syracuse University under contract from NASA Glenn Research Center, and is now being developed for military uses and wildfire prevention. The entire structure of the plane is composed of either off-the-shelf or custom carbon fiber components made by Dragonplate.

For example, the main center bulkhead was CNC cut from honeycomb core. The endplates, end fan mounting panels, and structural support ribs were made from solid carbon of various thicknesses. And internal servo mounts were cut from stock solid carbon angle material. In addition to off-the-shelf materials, the Propulsive Wing also includes several custom Dragonplate components, including specialty foam core tail booms, carbon fiber skinned wings and nose piece, and highly customized solid carbon spring landing gear. The propulsion system for this revolutionary UAV is not propeller driven, but instead is powered by wing-embedded cross-flow fans. Whereas typical cross-flow fans used in the heating and air conditioning field are made of regular plastic, which is relatively weak, the fans used in the Propulsive Wing were fabricated entirely from Dragonplate solid and pultruded carbon fiber to be exceptionally light and rigid, and are the world's only commercially produced carbon fiber cross-flow fans.
Sports Equipment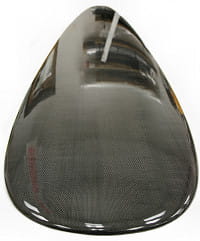 A line of high performance carbon fiber surfboards were created using Dragonplate processes. Although no DragonPlate stock products were used to create these surfboards, similar technology was used. Three models were developed, including 6' and 6'10" shortboards, as well as a 9' longboard. The high stiffness to weight ratio of carbon fiber created extremely lightweight surfboards that are virtually inflexible under high loads and will not dent from demanding use, a major drawback with lightweight fiberglass boards. The combination of custom rail and rocker design, responsiveness, and low weight, created surfboards with spectacular performance.

Musical Instruments

Carbon fiber strips serve many applications in the making of musical instruments, where its material properties of low mass and high stiffness make it an ideal choice. Carbon fiber strips may be used with truss rods, in various configurations, for neck reinforcement in wood necks. Short strips can be used to strengthen the head stock joint. Carbon fiber strips may be used in guitar bracing, where it can be used in combination with balsa or spruce as a stiffening laminate. Strips may be used in lattice support bracing of the top plate to allow greater thinning for increased response. Some makers have found other creative applications in using carbon fiber strips as longitudinal internal supports for reducing stress on top sounding plates. Due to its high strength in compression/tension and low mass, and its excellent bonding with epoxy and cyanoacrylate adhesives, carbon fiber is the doorway for new generation instrument making.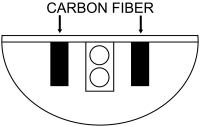 One of the most common uses of carbon fiber in the making and repairing of stringed instruments is neck reinforcement. To the right is an example of how carbon fiber can be used to give the neck more stability and reduce twisting. This neck cross section shows one possible way to install carbon fiber. Orientation of carbon fiber strips is determined by the cross-sectional dimensions of your neck.
Scientific Apparatus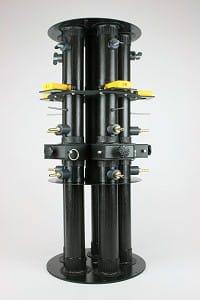 Carbon fiber materials from Dragonplate are ideal candidates when lightweight, rigid fixtures for scientific work are needed. Both industry and University labs often turn to carbon fiber when minimum deflection and thermal variation are driving criteria of their experimental designs. In addition, carbon fiber structures are much lighter than equivalent metal ones, often making transport, assembly, and mounting easier.

Some examples of Dragonplate used in this design include:

By using Dragonplate materials and Scotch-Weld epoxy bonding methods, Propulsive Wing was able to complete the project in only 8 weeks from start to finish.

Carbon Fiber Furniture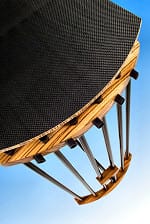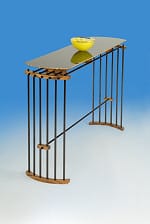 Carbon fiber is increasingly being used in the construction of furniture. Furniture makers use carbon fiber because of its light weight, durability and appearance. Carbon fiber can give a piece of furniture a "high-tech" or "high-end" look while reducing its overall weight.

Cerious Technologies, developer of high-tech materials, fabrication techniques and concepts, aims to bring innovation into the home environment by targeting mature markets where traditional design and thinking dominate the market landscape. For the Carbon Earth table shown here, Cerious chose a core of Baltic birch plywood and skins of DragonPlate carbon fiber with a proprietary ceramic adhesive developed for ballistic armor. The legs were created in similar way, from DragonPlate carbon fiber tubing. The table is 62 percent wood by weight; exactly 50 percent wood, 50 percent carbon fiber by volume. The Carbon Earth Table weighs less than 15 lbs.
Aerospace
Orthopedic Devices
Acoustic Systems
Manufacturing Fixtures and Tooling